How must independent resellers establish their foundation to compete in the
Digital World?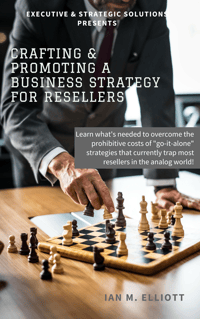 They can't compete with legacy technology or analog strategy.
It's impossible for independent resellers to implement "go-it-alone" strategies to resolve the technology issues or launch digital strategies they don't fully understand. However, without these capabilities, their survival is at risk.

It's too late to build a B2C e-commerce business so resellers must focus on B2B. However, without technology and digital tactics these efforts are also doomed to fail!
The Technology Gap
There is no escaping that we live in a digital world and there's no escaping a business cannot compete in a digital world using analog tools. Most independent resellers:
Are still analog
Strongest competitors are digital
Have high churn rates
Combining high churn rates with a slowly decreasing market represents a serious threat to Independent Resellers. Unless they close the technology gap they face an increasing risk of failure.
The Value Proposition
There is only one product category in a $200 billion industry that can be exploited to increase both profits and market share, and that is generic ink and toner cartridges. To take advantage:
Technology barriers must be overcome
Customers must be presented with alternatives
The value proposition must be promoted
The most widely used technology platforms do not facilitate seamlessly adding aftermarket alternatives to the catalog. Until this hurdle is overcome, they cannot become part of the value proposition.
The Technology Solution
A technology solution must solve all the elements necessary for a digital transformation. This involves much more than an online catalog and ordering system.
Vendor "agnostic" platform
Reseller controls which products and vendors
Fully integrated platform
Turning a resellers website into its full-time promoter working 24/7 to develop awareness and answer researching buyer's questions can't take place overnight but, without it, more failures are likely.
Why can't an independent reseller independently execute a digital transformation?
e-Book explains:
Cost

The "go-it-alone" investment is too high

The ROI is insufficient to overcome the risks
Know-how

The typical reseller doesn't know what's involved

Doesn't have enough knowledge to qualify 3rd parties
(Use Arrows to Advance Slides)
FREQUENTLY ASKED QUESTIONS
Why do I need to fill out the information requested?
We will always keep your personal information safe. We ask for your information in exchange for a valuable resource in order to (a) improve your browsing experience by personalizing the Executive & Strategic Solutions site to your needs; (b) send information to you that we think may be of interest to you by email or other means; (c) send you marketing communications that we think may be of value to you. You can read more about our privacy policy here.
Is this really free?
Absolutely. Just sharing some free knowledge that we hope you'll find useful. In return, all we ask is that you please keep us in mind next time you have some questions about how to grow your office products, supplies, and equipment dealerships!