What is Canon complaining about and how does an ITC investigation work?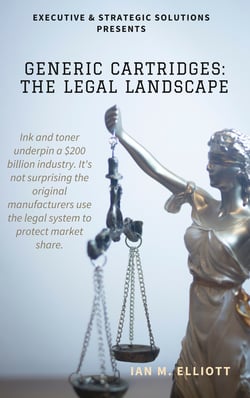 Detractors label generic cartridges as patent infringing "clones" but there's much more to the story than that.
The original equipment manufacturers provide us with cheap printers but the total cost of ownership is a different story once four-years of replacement cartridges are accounted for.

Dongle-Gear Background
The dongle-gear is one of hundred's of components in a Canon/Hewlett Packard laser printer cartridge, but this is the third round of ITC litigation on this one component:
'829 investigation 2012
'918 investigation 2014
'1106 investigation 2018
Canon prevailed in 2012 and 2014 obtaining General Exclusion Orders preventing certain designs from importation to the U.S. However, the respondents redesigned their products, just as they are now doing in the '1106 matter.
Discrediting the Clone label
The litigation targets manufacturers, distributors, and resellers of new-build cartridges. However, while the OEM filed the complaint, media outlets sponsored by the remanufacturers were quick to jump on the bandwagon.
By definition, the cartridges are not clones
However, they may still infringe patents
This will be determined by the investigation
New build generic toner cartridges cost less to make than remanufactured cartridges and have no supply chain constraints. This means they represent a threat to the remanufacturing business model.
Investigation Timeline
The investigation will be completed within eighteen-months of commencement but will the outcome be any different to the previous ones?
Markman hearing August 31, 2018
Bench trial January 31, 2019
ITC Final Determination July 29, 2019
Inside six-months of the complaint being filed the respondents already have redesigns in the marketplace, irrespective of the final determination of the ITC investigation.
Is there a place for generic ink & toner cartridges in a resellers business?
e-Book includes:
Infringement

The patent owner has a right to sue

A patent is a government-granted monopoly
Competition

The aftermarket has a right to compete

But, does it do enough to avoid OEM patents?
(Use Arrows to Advance Slides)
FREQUENTLY ASKED QUESTIONS
Why do I need to fill out the information requested?
We will always keep your personal information safe. We ask for your information in exchange for a valuable resource in order to (a) improve your browsing experience by personalizing the Executive & Strategic Solutions site to your needs; (b) send information to you that we think may be of interest to you by email or other means; (c) send you marketing communications that we think may be of value to you. You can read more about our privacy policy here.
Is this really free?
Absolutely. Just sharing some free knowledge that we hope you'll find useful. In return, all we ask is that you please keep us in mind next time you have some questions about how to grow your office products, supplies, and equipment dealerships!