Mergers and Acquisitions Are Rapidly Changing The Competitive Landscape.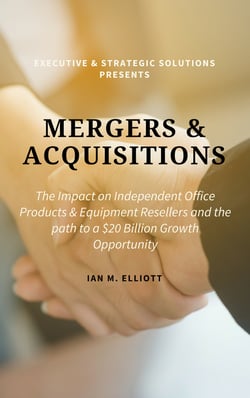 Improve your understanding of the potential for M&A to impact your dealership.
M&A activity at the manufacturer, distributor, and reseller level is having a major impact on the marketplace and independent resellers must be prepared for disruptive change.

Learn who the strongest players are and how they impact M&A activity to change the landscape of the office products and equipment industry!
M&A
Mergers and acquisitions are taking place at all levels in the office equipment, products, and supplies industry.
Original Equipment Manufacturers (OEM's) i.e. Fuji Xerox Merger
Distributors
Wholesalers i.e. SP Richards merger
Resellers
Retailers
Independent resellers must make informed decisions when selecting their partners.
Consumer Adoption
Only one category in the industry has not been commoditized and that's ink and toner.
Original (OEM) brands
Aftermarket remanufactured
Aftermarket new-build cartridges
Distribution, availability
Legal threats
Ink and toner underpin the entire industry, whether it be for an equipment or for an office products & supplies reseller.
Market Share
There's insufficient margin on equipment or on commoditized office products and supplies to capture market share.
Can't grow revenue without increasing market share
Can't increase market share in an online price war
Can't beat market leaders value proposition without technology
Resellers are faced with few options besides leveraging the aftermarket value proposition in conjunction with information technology.
M&A Insights
35-Year Industry Executive

Who's weak and who's strong

Aligning with the right partners
The Value Proposition
15-Years Experience

The Internet and developing brand awareness

Where to focus and leveraging weak points to grow
(Use Arrows to Advance Slides)
FREQUENTLY ASKED QUESTIONS
Why do I need to fill out the information requested?
We will always keep your personal information safe. We ask for your information in exchange for a valuable resource in order to (a) improve your browsing experience by personalizing the Executive & Strategic Solutions site to your needs; (b) send information to you that we think may be of interest to you by email or other means; (c) send you marketing communications that we think may be of value to you. You can read more about our privacy policy here.
Is this really free?
Absolutely. Just sharing some free knowledge that we hope you'll find useful. In return, all we ask is that you please keep us in mind next time you have some questions about how to grow your office products, supplies, and equipment dealerships!