As customers become increasingly knowledgeable about the availability of alternative products, loyalty to legacy suppliers falls way down the pecking order.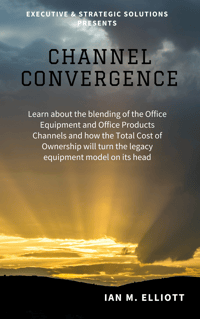 Print volumes are declining, therefore the demand for high-volume output devices is also declining.
While few expect office printing to ever be entirely eliminated, many resellers have been slow to recognize changes in work practices and the impact these have on the need for the traditional equipment that underlies their legacy business model.

An increasingly mobile workforce has a completely different set of requirements to those associated with corporate offices and central print stations!
The Pull Economy
Consumers have access to unlimited sources of information which they now turn to for the purposes of educating themselves about alternatives their legacy sales representative may have preferred they didn't know about.
Pre-qualify potential sellers
Negotiate from a position of strength
Seek value over loyalty to legacy suppliers
Sellers used to have the power to "push" their chosen solutions to their customers, but the balance of power has changed and now consumers have the power to "pull" the solution they want.
The Resellers
As consumers become better educated about the availability of different alternatives this knowledge plays into the hands of resellers with the most compelling value proposition.
The lowest total cost of ownership
Flexible service propositions
Elimination of friction points
As print volumes decrease and the need for high-capacity copier and printer devices declines alongside them, then the inescapable truth is a reduction in the resellers legacy revenue stream.
The Disruption
Consumers will not tolerate being offered yesterday's solution for tomorrow's business environment which means the end of yesterday's business solution is finally on the horizon.
Efficiency and choice
Maintaining control of the spend
Access via mobile devices
Most resellers can't see the disruptive threat until it's too late and cling to past business practices which are vulnerable to technology solutions designed to transform the customer experience.
Why are independent resellers reluctant, or unable, to respond to changing customer needs?
e-Book explains:
The Value Proposition

The change from a "push" to "pull" economy

How changes in work practice affect resellers
The Technology Solution

Legacy systems were designed for yesterday

The drive for efficiency while maintaining control
(Use Arrows to Advance Slides)
FREQUENTLY ASKED QUESTIONS
Why do I need to fill out the information requested?
We will always keep your personal information safe. We ask for your information in exchange for a valuable resource in order to (a) improve your browsing experience by personalizing the Executive & Strategic Solutions site to your needs; (b) send information to you that we think may be of interest to you by email or other means; (c) send you marketing communications that we think may be of value to you. You can read more about our privacy policy here.
Is this really free?
Absolutely. Just sharing some free knowledge that we hope you'll find useful. In return, all we ask is that you please keep us in mind next time you have some questions about how to grow your office products, supplies, and equipment dealerships!