Converting data into business intelligence!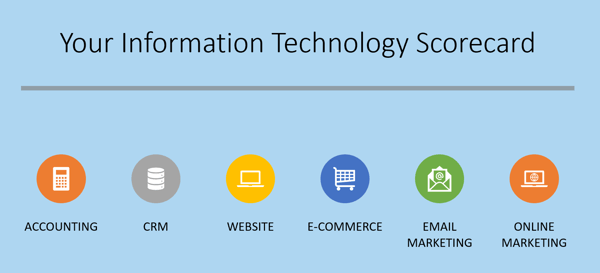 Grade your existing IT platform to determine how prepared you are for competing in the Digital World.
Organizations with the ability to convert data into business intelligence are developing sustainable competitive advantages as part of their digital transformation.

Learn more about why you need an integrated information technology platform to retain existing customers and win new ones!
Lead Generation
70%+ of potential buyers are researching online before they will ever speak to a salesperson.
Does your website act to qualify your business to researching buyers?
Do you deploy visit-to-lead conversion strategies?
Do you enable multiple communication channels?
Do you capture your visitor activity in your CRM?
Can your customers seamlessly transact at your website?
Communications
Do you have a central database of shared knowledge available to authorized employees?
Customer order history
Customer communications & timeline
Website pages visited
Content downloads
Do you have to re-key data into standalone systems?
Marketing
Do you send emails with the right content at the right time to the right person?
Email remains the most effective means for one-to-one communications
Sending the wrong material at the wrong time reduces engagement and leads to opt-out's
Do you record all email activity in your CRM contact timeline?
Can you seamlessly gather and consolidate all this data and use it to develop your business?
IT Scorecard Paints a Picture:
The Six Elements

Accounting, CRM, & E-commerce Portal

Website, email, and online content marketing
Integration

Each of the six elements must "speak" to each other

Automated data flows create business intelligence
(Use Arrows to Advance Slides)
FREQUENTLY ASKED QUESTIONS
Why do I need to fill out the information requested?
We will always keep your personal information safe. We ask for your information in exchange for a valuable resource in order to (a) improve your browsing experience by personalizing the Executive & Strategic Solutions site to your needs; (b) send information to you that we think may be of interest to you by email or other means; (c) send you marketing communications that we think may be of value to you. You can read more about our privacy policy here.